Community Involvement
Community involvement is woven into the fabric of the Eat'n Park culture. We're more than just a business; we're a neighbor, an engaged partner. And as such, we're dedicated to doing our best to make the communities we serve as strong and vital as possible. Giving back isn't just something we do; it's who we are.
Every year, we donate at least five percent of our pre-tax earnings to local charitable organizations. Working with community partners, we're able to leverage our resources to raise funds for important causes. Perhaps our best-known program is our annual Caring for Kids campaign, which has raised over $10 million for local children's hospitals. This team-member driven fundraiser has been going strong for more than 35 years.
We support local organizations in other ways, too. Our Smiley Cookie Fundraising and Gift Card Fundraising programs offer a fun, easy way for nonprofits to raise money for their organizations.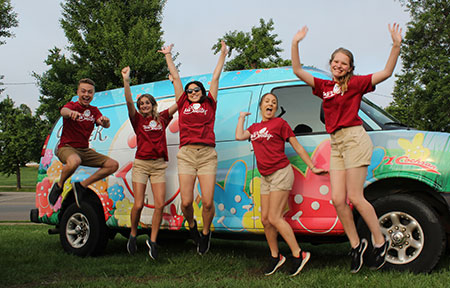 In the community, Team Smiley and our Smiley mascot are a frequent sight, as they visit festivals, fundraisers, races, and more to distribute free Smiley Cookies to the families who attend. In fact, we donate more than 300,000 Smiley Cookies every year to nonprofits and events like these.
Click here to view our Community Commitment Overview PDF.
Corporate Giving
We invest at least 5% of our pre-tax earnings annually to support nonprofit organizations. We support a wide variety of causes with priority funding for programs that:
Help our neighbors meet basic needs, with a focus on emergency food access.
Increase food security by strengthening food infrastructure in our community.
Provide opportunities to help children and youth thrive through education and mentoring.